Hindustan Property Ad Booking for Bareilly Newspaper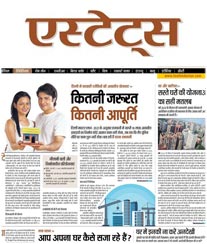 Book Property advertisement in Hindustan Bareilly Newspaper at Lowest Rates. Review Ad rates of Property advertisement for Bareilly Newspaper from the below table. The rates of advertisement in Hindustan are offered in Rupees per square centimeter. So to get the total cost of Property Ad, multiply the rate with the size of advertisement you wish to advertisement in Hindustan newspaper.
Don't forget to check the booking essentials to know about the Property advertisement publishing date, booking deadline and other mechanical details of Hindustan Bareilly Newspaper which helps you to plan your schedule according. You can give Full Page, Half Page, Quarter Page or any other size advertisement for Front Page, Back Page, Page 3 or in inner page of Hindustan Bareilly newspaper.