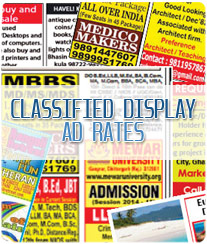 Unlock Your Advertising Potential: Sakshi Classified Display Ad Rates Await!
Discover the current Classified Display Ad Rates for Sakshi across different editions, all at your fingertips. Bhaves Advertisers, a prominent Newspaper Advertising Agency, brings you these rates presented in Rupees per square centimeter. Rates vary based on the preferred placement – Front Page, Page 3, or Inner Page – adding a layer of choice to your advertisement strategy.
For your convenience, we provide the option to download the Sakshi Advertisement Rate Card in both Pdf and Excel formats. Unveil the potential of your Classified Display ad with the added advantage of Special Discounts on the stipulated Tariff Rates. Experience seamless service by requesting a Free Quote for your Classified Newspaper Classified Display Advertisement.
Embrace the power of impactful advertising with Bhaves Advertisers – your pathway to optimized reach and engagement.