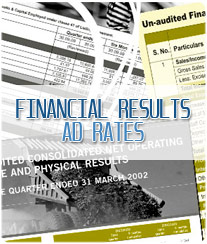 Book Financial Result Advertisement Online in The Hans India Newspaper at lowest charges
Check out current applicable Financial Result Ad Rates of The Hans India from the table for various editions of The Hans India Newspaper. The rates mentioned are in Rupees for 1 square centimeter. There is difference in rates if you wish to place your ad on Front Page, Page 3 or Inner Page Position for Financial Result Ad in The Hans India.
You can also download The Hans India Advertisement Rate Card which is available in Pdf & Excel format. We offer Special Discount for Financial Result Ad on the above Tariff Rates. Get a Free Quote for Financial Result advertisement in Financial Result Newspaper. Send your requirement to response@bhavesads.com.